XXXL wraps for bandages, a new fashion trend in the dressage world
Photo © Astrid Appels
— by Vikki Fowler, Veterinary equine dentist.
Bandaging and booting our horses is becoming more and more popular, especially with the popularity of matchy matchy sets. But are we doing more harm than good? Most people will have come across the articles in magazines and comments from vets saying they are, and yet still they become more and more popular. Why is that? Why do riders still cover their horses in thick fleece bandages or fluffy boots despite the dangers? Tradition I suppose. Wanting to fit in. Or just habit, some will feel like they haven't finished tacking up if they haven't put the boots on.
I know this isn't about dentistry (for which I apologise) but I am a vet first and foremost, and as a dressage rider I am asked why I don't use bandages all the time. I've written about this several times now and no one pays attention, so rather than stating facts and quoting research, I'd like to take you through my journey of discovery, please bear with me. Facts and papers are at the end.
Rewind 12 years and I was in my final year at vet school. Prior to and during vet school I had a horse and we did dressage. I had planned to ODE but this horse pulled every tendon and ligament known to vet kind. He spent more time out of work than in. Each time I would up my game with the latest boots/bandages on the market. From fluffy boots to wraps to sports fetlock boots, fleece bandages to gamgee and cotton to the half fleece/half elastic bandages. I learnt new techniques for better support, figure of 8 bandaging to cradle the fetlock etc etc. I'd been there and done it. My collection was extensive.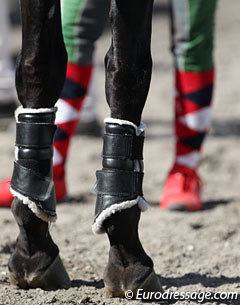 Right at the end of vet school I had my rotations. I chose Equine lameness as one of my options. During in this I very vividly remember a wet lab with Dr Renate Weller where she had a skinned horses leg (showing all of the tendons and ligaments) in a machine that mimicked the pressures a horse applies to their limbs. She took us through walk, trot, canter and gallop, loading this leg so we could see the inside workings of the horses leg without the skin. It was fascinating I can tell you, and I very clearly remember thinking about my horse and wondering how on earth we are suppose to support this limb when it undergoes these incredible forces! Half a ton of animal pushing down a tiny spindle of a leg held by tendons barely thicker than my thumb. Craziness!
Fast forward just a few short months and I was a fully qualified vet in the big wide world. I attended my first BEVA Congress and during the break I wandered around the stalls looking at the latest inventions and technologies companies bring to these gatherings. Here I came across a company with the Equestride Boot which caught my eye. Now if you haven't seen this boot, it's wonderful and I've since used it a few times in rehabbing very severe tendon and ligament injuries with great success. The boot is a carbon fibre boot that stops the fetlock dropping, which stops the tendons and ligaments being fully loaded while they heal. This boot is super strong. You couldn't ride a horse in it as it is limiting the range of motion so much, but they can move about easily enough at the lower settings to rehab etc. The guy on the stand (I'm afraid I can't remember his name) showed me their research and in the straight talking Irish way explained the stupidity of expecting a thin piece of material to support a horse. And of course it can't! Literally no bandage or boot (short of this very expensive carbon fibre rehab boot) is capable of reducing the amount the fetlock drops. Thinking back to Dr Weller's demonstration, I could very clearly see how ridiculous I had been to ever believe a scrap of material could do anything to reduce or support that pressure.
But the boots/bandages don't actually cause any harm do they? Surely it's ok to use them on the off chance they might help and if we look good in the meantime, great! Well, not long after this, research started appearing that got me very worried about my bandage collection. Heat. Anyone that uses bandages and boots will not be surprised to see sweat marks under their bandages/boots after they've been removed. They trap a lot of heat. The horses body and legs generate a lot of heat when working. The tendons/ligaments in the leg, along with an increased blood flow generate ALOT of heat. Fleece bandages/boots in particular, hold this heat in the horses leg. Very few boots and virtually no bandages (especially if you use a pad under) allow the legs to breath adequately. This heat is easily enough to kill tendon/ligament cells. Each tendon/ligament is made of thousands and thousands of cells all lined up end on end and side by side in long thin spindles. They stretch and return to their original shape and size like an elastic band, absorbing and redistributing the pressures applied from further up the leg and from the ground impact below. All of these cells must work together as one to do this effectively.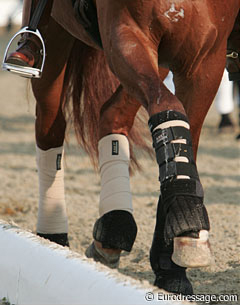 Just a little side step here to explain how tendons/ligaments heal. A tendon/ligament cell can not be replaced like for like. They always heal with scar tissue. This is why reinjury is so much more likely if a tendon/ligament is blown. The fibrous scar tissue doesn't stretch, it isn't capable of stretching or absorbing the impact of a horses movement. It will always be a weak spot. In a full blown sprain/strain the whole (or most) of the tendon has been damaged. But this heat injury might just kill a few cells at a time. Those few cells are replaced by fibrous scar tissue, then next time a few more etc etc. Like a rubber band degrading over time the tendon/ligament loses its elasticity and eventually goes snap. Then you've fully blown a tendon/ligament. The injury didn't start to happen at that moment, but that was the final straw. The damage adds up over time, each time thermal necrosis (vet word for cell death) occurs.
So if using boots/bandages can not offer any sort of support, and using them generates heat that slowly damages the tendons/ligaments until they give way. Why use them? Protection. This is the only reason to use boots. To stop the horse brushing, injuring themselves catching a pole or over cross country. But for goodness sake make sure your boots are breathable! If the horse is sweaty under the boot but not above or below, the boot is not breathable enough. And don't use fleece bandages just because you like the colour. These fleece bandages are the worst at holding heat in the leg, way above the threshold for thermal necrosis to the cells of the tendons and ligaments. If your horse doesn't need protection, don't use boots. I haven't for the last 12 years and *touch wood* I haven't had a single tendon/ligament injury in any of my horses. I will never go back to boots or especially bandages now. I don't use them for schooling, lunging, jumping, travelling, turnout, stable, in fact I don't use them at all. Ever. But I don't hunt or XC.
I hope you have found my story useful and can make informed decisions on boots and bandaging going forward.
-by Vikki Fowler